Liv Redpath, winner of the 2016 Rossini competition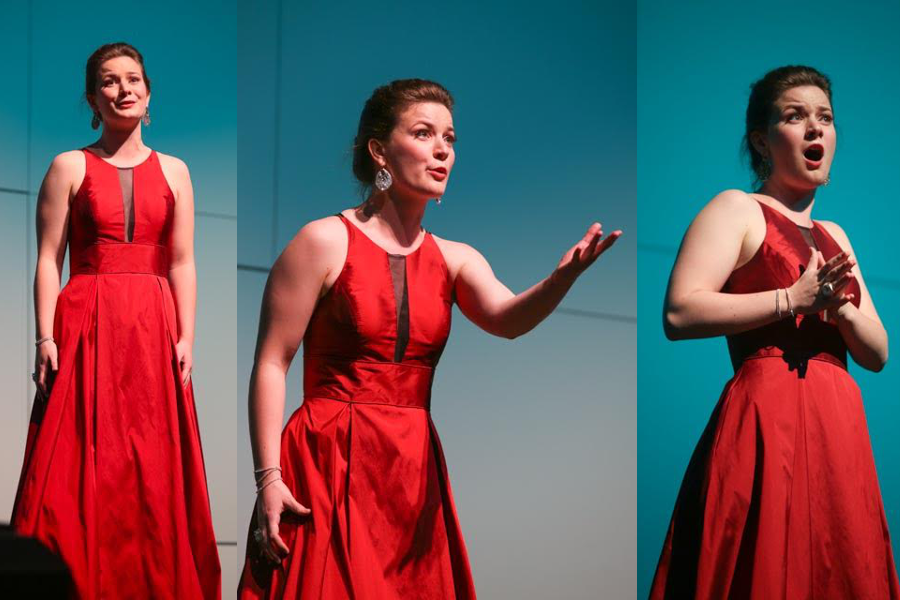 The Palm Springs Opera Guild of the Desert recently awarded the second annual Rossini prize to soprano Liv Redpath. Among the jury members again this year was the legendary Rockwell Blake. We are delighted to bring this interview with her.
First of all, congratulations on winning the Rossini Award given by the PSOG. Everyone associated with the award is really delighted to have such a wonderful winner!
Thank you so much–it was an absolute pleasure to learn a new side of the repertoire.
A few of our members in the Boston area recall hearing you sing when you were a student at Harvard. You majored in English, so was singing something you discovered while you were at Harvard, or was it something you had always done?
I get asked this question often–I certainly took a non-traditional route to singing, from the outside. Funnily enough, it is because I love singing so wholeheartedly that I chose to study English at Harvard. I was so firm in my commitment to music that I felt studying another subject and attending an academic institution would only deepen and enrich my ability to bring life to characters on stage. I also researched what my time at Harvard could look like extracurricularly and found that, if persistent, I could potentially sing three or four operas a year, sing six mornings a week at Memorial Church in Harvard Yard, and take voice lessons with a world class teacher across the river at Boston University (which is exactly what I did!)
In the master class with Renée Fleming (available on YouTube) you just seem so calm and collected! Were you feeling differently?
Of course I was nervous for what Ms. Fleming would think of my work, but when I get nervous it is because I earnestly want to achieve something, and through that, I find a strange calm.
I woke up for that morning master class at 6 AM in order to warm up and put myself together, was at the space over an hour early, and told myself if I was my best, most musical self, I couldn't ask for more. Over the years, I've recognized this trait in my practice; when I have a goal in a performance or audition I value, I buckle down and center in on what I want and what I can control in the performance–everything else is just noise. I often think to myself how upset I would be were I not to give it my all–that usually pushes me to my best self. It also helps immensely that Ms. Fleming is so kind and compassionate–she came to our sitzprobe for Cendrillon the evening prior, so I had gotten a chance to meet her, and she to hear me, before those special 20 minutes on stage. She is so special, and I look forward to all that she has yet to give the musical community, both as a performer and also as a teacher and artistic leader.
Have you grown up in a musical family? As a follow up, were there some early inspirations that led you to consider this as a career?
My mom loves to sing and has sung for her entire life. My dad didn't grow up with music, but has been supportive of all of my aspirations from a young age. I was lucky to have parents who valued an arts education so highly–they put me in Yamaha piano lessons from age 4 and I continued through the end of high school, adding trumpet in 5th grade–and of course I sang. Throughout my childhood I had amazing mentors who encouraged me in everything I did musically. Without these teachers and my parents, I would not have achieved and grown in all the varied musical experiences I have been lucky enough to have. I'm also a realist, so although I knew my own dream, I always checked in with various authorities to get their opinion on my growth and if the continuance of my training was valid–thank goodness it has been fruitful!
What was it like to be a student at Juilliard? And what would you say was the most valuable part of your experience there?
Juilliard was a swift introduction to all the nuts and bolts of how the industry of opera (and classical music) works. It truly is a mecca for great and varied artistic training, and I was lucky to be at the heart of much of that in my graduate studies. There is a decent amount of stress involved with being in the center of it all and somehow trying to avoid comparison not only to your fellow students, but to the singing that happens across the street at the Met. However, once you get through that, you come out stronger than ever, making deliberate choices about who you want to be and how you want to interact with and inspire others.
The most valuable thing Juilliard gave me is a gift that will continue to give long after leaving the building: their staff. I have met some mentors who I will look up to, and cite, and remember, for my entire life–the generosity and insight of the artists on their staff is what makes everything work there.
Juilliard, of course, has the advantage of being across the street from the Metropolitan Opera. Were you able to attend many performances while you studied there?
I did attend performances–not as many as I would have liked. My favorites were Le nozze di Figaro, and Lulu with Marlis Petersen. Stunning. I stood through all 4 hours, and it was worth it. I've already bought my Lulu score to start working on for years down the road.
Now you are participating in LA Opera's Domingo-Colburn-Stein Young Artist program. Tell us a little about what that is like.
Being a Domingo-Colburn-Stein Young Artist at LA Opera is perfection at this stage of my development. I am truly lucky. I get to work with a staff who are fabulous musicians, know how to have fun, be supportive, and work as a team. I love them, and am improving and learning in my craft because of their strength. I'm also fortunate to be with an immensely talented and, again, fun group of young artists, which makes moving across the country a much easier task!
You have sung and covered quite a diverse number of roles, but not much Rossini. Is this because the opportunities have not come your way, yet? Are there particular Rossini roles you would like to add to your repertory in the near future?
It is precisely that–the opportunities just haven't come my way yet! I am someone who is immensely curious about the entire operatic canon, so I might take a little longer to cook than a singer who specializes in only Baroque or Bel canto repertoire. My main draw to opera really is for the purpose of musical storytelling–for this reason I can't just pick one style and be content–I want to make real the worlds of Rossini and Berg and Handel. I read about this competition online and thought, "Well, this is a perfect excuse to learn something new!". I saw the Met broadcast years ago of Le comte Ory with Damrau, Flórez and DiDonato and knew I wanted to learn Adèle, the countess.
And finally, now what is almost the "obligatory dog question"! Many of the best Rossini singers have dogs that they love and travel with. We understand you have one too?
I do have a dog! Her name is Mimi and she lives in Minneapolis with my parents. She is a yorkie-poodle who is full of life and quirks and brightens everyone's day. I joke that she is my spirit animal, and an admirable replacement for me at home (my family got her after I went away to college). I'm still waiting for the day they let me take Mimi on a little LA vacation!