Interview with Stage Director Rosetta Cucchi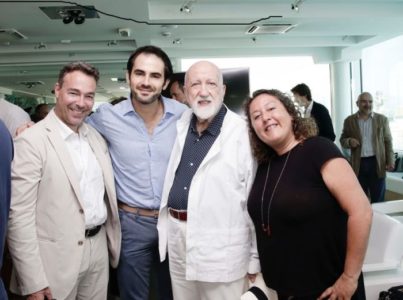 In the photo above Rosetta Cucchi appears with her colleagues at last summer's Rossini Opera Festival. From the left, conductors Abel and Sagripanti, directors Pizzi and  Cucchi ( Foto Amati Bacciardi)
Having met Signora Cucchi at the Rossini Opera Festival following her enchanting production of "Adina", we were delighted to meet her again in Boston in the fall of 2018 where she came to direct a production of "Il Barbiere di Sivilgia" for Boston Lyric Opera.
Rosetta brought all the warmth, openness and generosity of an Italian summer to our interview. Before starting our formal interview we discussed her dogs ( and true Rossinians always seem to have dogs) One of them is named Adina, but not for the reason one might expect! There is another Adina, and in fact Rosetta will be directing "L'elisir d'amore" for Opera Omaha in February 2019.
Our discussion, held outside in a cafe near the Boston Common, was interrupted by a street band playing strains from the Barber of Seville, much to our mirth.
At ROF we had learned that Cucchi is a native of Pesaro! In fact she graduated from the Rossini Conservatory with a diploma in piano.
ARS: First question. How did you come from "piano" to where you are now?
RC: This a question I always get because it is kind of a strange path. Usually someone starts as an assistant director, etc. But for me an operatic stage director needs to know music! Because otherwise if you don't trust the music, well, you can put whatever you want on the stage, but you have to be faithful to the music.
Staging opera was always my passion, but of course I started at the conservatory and my first job was with the orchestra RAI ( ed note, the Turin Rai appears at ROF) but I was playing with Rai in Rome. At the time there were 4 RAI orchestras ( Rome, Milan, Naples, and Turin) I was really young, I was 19 at the time and I also started at the university ( theater studies) so I had both educational backgrounds ( music and theater). And then suddenly the RAI orchestra in Rome closed! Rome, Milano and Naples orchestras closed .
I arrived to play my first opera "Candide" in Reggio Emilia. The former artistic director in Pesaro was there as a consultant. He heard me play and he asked me "Do you want to come to play in Pesaro at a festival called the Rossini Opera Festival? He didn't know that I was from Pesaro! So I arrived in Pesaro. Life is strange. I started to work in Pesaro in the 90s as a pianist. I did a lot of things as a repetiteur, recitals with Mariella Devia. With Mariella we started a long-lasting relationship because we played together for 10 years!!! Everywhere, in La Scala, in New York, in Paris, everywhere, in Japan.
As a pianist I always saw what was going on on the stage.
Step by step I got closer and closer to the stage. I loved the idea of combined music and theater. So, in 1999. someone gave me the possibility of directing an opera, a little opera, it was "La Scala di Seta"
It was done in Seville and in Wexford. After this I started a new career.
It was very hard. Particularly for a woman to be a director. And to change from music, it was very, very hard.
So it took almost 10 years, to "arrive" to be considered at stage director. It was really a long journey.
At a certain point I stopped playing in Pesaro as a repetiteur because I had to choose. I decided in 2005
I don't work as a repetiteur" any more, although I still do concerts. I do concerts because it is my passion, my life and I need to combine my passions.
In operatic staging you need to listen to the music, it tells you what to do, for example in "Adina"it was not "traditional", you saw the cake, etc. But I was faithful to the music.
In operatic staging you need to listen to the music, it tells you what to do
Cucchi working with the cast of Adina at ROF
ARS: There must be differences in mounting an opera like "Adina" which few people know and one like "Barbiere" which "everyone knows.
RC: Of course with " Adina", a "rare" opera, I had to tell the story. "Barbiere" everyone knows, but still I have to tell a story. For Adina I chose a kind of metaphysical dream.
For "Barbiere" it was different. First of all, I am working with different set designer, an American. In my two previous productions for in Boston I worked with John Conklin. He is now in his 80s. He is a genius and it was a wonderful experience. This year he couldn't do it and I am very sorry about that because the relationship in the creative team so important. Now I am working with Julia Noulin-Merat.
So, I thought about "Barbiere". It is a story that has been told many times. But it is so modern. It is a story about someone who deeply loves to make her life. ( as does Figaro) Instead of dividing the people into high class and lower class I wanted to divide it between the youth and "old age. When I say "old age" I am not referring to years. There can be people in their 20s who don't have desire, passion. People who take advantage of things, they are looking for money. "My world' is divided into two towers, Here there is Rosina, Figaro, Fiorello the world that wants to make a life; the other tower is Bartolo, Basilio, Berta ( why not?) People like Bartolo. Bartolo is funny but behind the curtain Bartolo is mean he is somone who has trapped Rosina who keeps Rosina in a world that she doesn't want. Usually, though not in Pesaro, there are cuts, and I understand, but you have to understand that Bartolo does not love Rosina, he wants her money. He SAYS this!
About the sets. The title of "Barbiere" is "Il barbiere di Siviglia, ossia L'inutile precauszione" What is this "useless precaution"? You know the ladder at the balcony that the count and Figaro have to climb to get up to Rosina. It has been taken away by Bartolo, thinking that this will solve the problem. S, it's about stairs and ladders. I thought about an artist that inspires me, Escher! My idea was to have stairs that go nowhere and everywhere! So, the idea is to have these two towers where there are stairs. Rosina in the one, and Bartolo in the other. They see each other but they cannot get to each other. It's all in black and white.
My idea was to have stairs that go nowhere and everywhere!
But Rossini requires color, so I decided to put the characters in the costume of the period, Rossini's period with a touch of color!
I hope it works. The idea of the stairs comes from Rossini's music.
BLO has been very nice in allowing me to carry out my ideas. There are some cuts, particularly in the recitatives, but you know not all is actually by Rossini. This was true in "Adina" as well. So there are cuts, but not as much as usual.
Here we were faithful to the libretto, to the music, we didn't cut parts of the arias etc.
About " Cessa di piu resitere" .
Remember Rossini squeezed this into the opera to accommodate a singer who wanted a "tenor" aria. But dramaturgically it doesn't belong.
It's like an "encore". Even in Pesaro, in the past they sometimes performed "Barbiere" without this aria.
About opera.
When I was growing up, opera in Italy was more popular than it is today. A farmer in the country would whistle music from Traviata, which is not happening today. Now opera is becoming a "nich". It's partly our fault, the educational system. They don't get the young people to come. At some point when the older people stop coming, the theaters will be empty.. Part of the problem is we are not "charming" to the young generation. We have to find a way of "marketing" this. We should not be in a tower saying "we are opera" It is the time of social media, not towers. This is to me, our fault.
Now I would like to tell you a little bit of my story! Ed ( which explains RC's unique connection to the US)
I never knew my grandparents on my father's side because they died before I was born. But my Father was born in New York because my grandfather was a bassoon player in the New York philharmonic orchestra. Part of his life was here ( US) with Toscanini. He and his brothers ( they were all musicians). I have a picture of my grandfather and Toscanini. My father was a pilot! Suddenly I decided I wanted to be a musician! Nobody forced me. I decided when I was 4! So, when they asked me to come to Boston I was very happy. Part of me is in the United Sates.