Interview with American Baritone Dean Murphy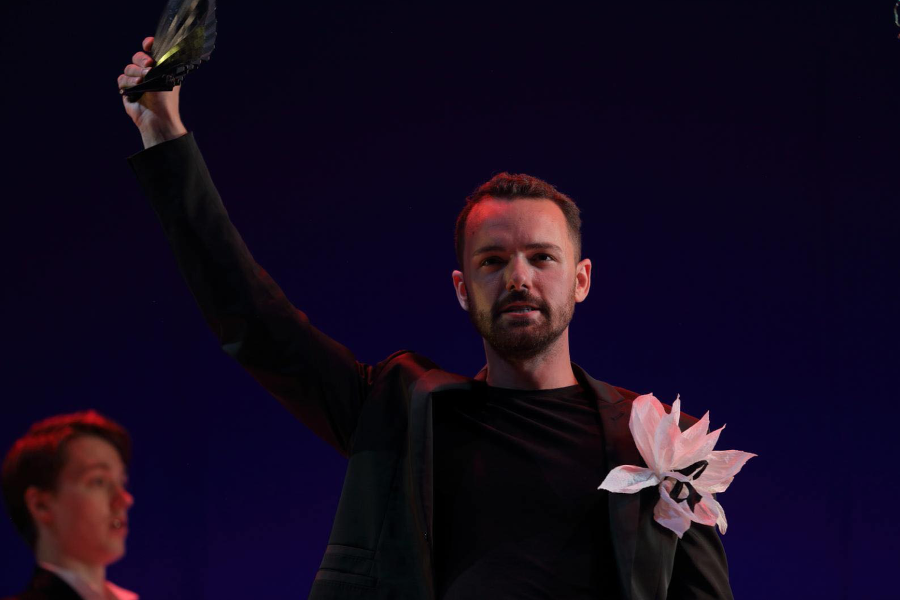 American singers have been infrequent participants in the Accademia Rossiniana, but this summer a delightful young baritone, Dean Murphy, a Boston area native, was there and became an audience favorite in his two appearances in the ever popular "Il Viaggio a Reims". Dean graciously offered to answer some questions for us about his background and career.
Please tell us about your background. Did you grow up in a musical family? How did you become interested in singing?
I didn't grow up in a musical family! Actually, nobody in my family is involved in music. However, my aunt was a very big opera/classical music lover and an artist! But I came into opera because of my sister, really. She made me join chorus in high school and it snowballed from there! I did all the school musicals and when it came time to apply to college, I decided to apply to conservatories for Vocal Performance. There is one moment I will always remember though… when listening to a video of Renée Fleming sing Song to the Moon from Rusalka in the 1991 Richard Tucker Gala… that last phrase absolutely blew me away!!! I've had a burning passion for opera ever since.
You attended Yale which has a renowned music program. Did you decide at that time that you wanted to become a professional singer?
Yes, I attended the Yale School of Music for my Master of Music degree. However, I decided I wanted to become a professional singer when I was in high school. I auditioned for multiple conservatories and luckily was accepted to all of them! Since then, I've fallen in love with opera over and over again.
How did you come to be in Zurich?
The first person that brought me to Europe was Christoph Seuferle from the Deutsche Oper Berlin. I won the Opera Foundation Scholarship that gives American singers the opportunity to sing in the ensemble of Deutsche Oper Berlin for one season. During this season, I decided I needed to stay in Europe because there is so much opera going on here! So, I auditioned many places and luckily the studio in Zürich took me because they were looking for a baritone to sing Figaro in Barbiere di Siviglia! Getting to sing that role last season was an educational experience and I am so grateful I was able to sing it when I did.
Did you audition for the Accademia in Europe? There were auditions in NYC in December and we were wondering if you might have participated in those.
I auditioned for Maestro Ernesto Palacio in Pesaro! I travelled there from Zürich last season and luckily was accepted.
So, you had already sung some Rossini before coming to the Accademia.
Yes! As I mentioned before, I sang Figaro in Il Barbiere di Siviglia with the Opernstudio in Zürich. They put on a brand new production for the studio every season – fully staged, costumed, and of course with orchestra! So, I lucked out that they were doing Barbiere the first year that I was there! But I am still here in the studio until the end of the 19/20 season.
What surprised you most about the experience at the Accademia?
I'm not sure if anything surprised me. But I certainly learned a lot! It was a great privilege to learn from Maestro Palacio… He is so knowledgeable and knows everything about Bel Canto style.
It was a great privilege to learn from Maestro Palacio… He is so knowledgeable and knows everything about Bel Canto style.
He always had a few notes for me every time I left stage… always trying to help perfect our roles! It was a life changing experience and I really appreciate him for giving me this opportunity. It was also my Italian debut!
Had you heard Il Viaggio a Reims before learning your role at the Accademia? How did it feel to be performing it in the city where it was first performed after being restored after so many years?
Yes, I'd heard of Il Viaggio a Reims before coming to Pesaro! It's a great piece. I had the opportunity to hear it at the Deutsche Oper Berlin while I was working there. But it was certainly special to be able to perform it in Pesaro, where it was first performed in modern times!! What an amazing thing that they do this opera every year!
What is next for you? Might you return to sing Rossini in the Boston area some day?
The next thing for me is a concert with Bergen National Opera in Norway! Then after that I'm back to Zürich for Schaunard in La Boheme, Pieter in Girl with a Pearl Earring (World Premiere), and Moralés in Carmen. As for Rossini in Boston… let's make it happen! I'd love to sing in Boston for sure! If it's Rossini… that's the icing on the cake!
Photo credit: Luca Canonici